Hard Glasses Case For Spectacles & Sunglasses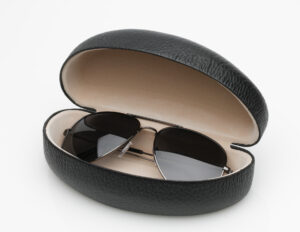 Protect your reading glasses or sunglasses with one of our premium made hard glasses case. Luckily for you, we have a wide variety for you to pick from from only the best suppliers. Glasses, cases and accessories all in one place, what could be easier? Our dedicated team of eyewear experts have developed a full range of glasses accessories that will compliment your style and keep your glasses protected in style. This range of accessories includes the must-have hard case that keeps us all from stepping on, sitting on or damaging our glasses which we call know happens far too easily!
---
---
Premium Sunglass Case Without A Premium Price
From Floral Glasses Cases to Hard Plastic cases we have you covered from A to Z. The best part about getting a spectacle case from Just Glasses? You can get a premium case for as little as £3.00. Take, for example, this smooth hard shell glasses case, a sleek jet black exterior with a soft inner lining that keeps your selected glasses protected, while in your bag, nestled on your shelf or on your desk. Simple yet elegant, and a must-have if you want to avoid smears of fingerprints on your glasses.
For those of you that want something more vibrant, and bigger to fit sunglasses in, then something like our red sunglass case could be for you. This black zipper clamshell hard case will protect your sunglasses while you are travelling to the beach, sitting in your car waiting for the sun to rise or simply during the colder seasons. Your sunglasses will sit in this hard case, protected and safe until the sun beams down on you. With all these amazing qualities you might be thinking that this premium quality case will be out of your price range. Wrong. For only £4.00, this hard case is worth every penny. After all, it beats damaging your sunglasses and having to pay for more. Keep your non-prescription glasses safe in a stylish way.
For those of you looking for something a bit more luxurious, something that will make your glasses pop even before you get them out of the case, then this leather sunglass case is exactly what you need. This flip open leather glasses case is jet black, luxurious and will protect your sunglasses. The outside of the case is hard, while the inside has a smooth feel to it. This combination will protect your glasses from scratches, fingerprints and other forms of damage. Mens & ladies hard glasses case only cost from £6.50 upwards and will save you money in the long-run as it will protect your glasses from damage.
---
---
Buy Spectacle Case For Glasses And Increase The Lifetime of Specs & Shades
So why should you get a protective glasses case? Sure you could just put them on your coffee table or put them carefully in your bag, but at the end of the day can you be 110% sure they will not get knocked off that table or squished beneath the contents of your bag? A glasses case is not just a stylish accessory, it will protect your glasses from unwanted fingerprints, scratches and even bending.
We have all had a pair of glasses that we have put on and instantly fallen in love with the shape, the colour or just because they make us look good. Then we have placed them down somewhere and when we return, somehow they have been bent out of shape or you have to pull out that little silk piece of cloth and clean the marks off the glass. A hard glasses case will stop you wasting your time, and will shield your glasses from unknown factors such as scraps, scruff and scratches.
A protective spectacle glasses case is an absolute must have when you are investing in premium quality reading glasses. Choose the design and colour that matches your style, from the comfort of your own home. We have various styles from stiff sunglass case to hardshell eyeglasses case.
---
---
Just Glasses Is Your Number One Supplier Of Eyeglass Cases UK

At Just Glasses we have been providing an extensive range of online eyeglass accessories at a very reasonable price point for the past 10 years. Our inexpensive hard glasses cases mean you no longer need to break the bank to afford durable, fashionable and practical solutions to protect your glasses. We work with strong reputable eyeglass manufacturers in order to deliver a high quality range. Its made Just Glasses the go to place for hard shell glasses cases & eyewear accessories.
When purchasing any of our spectacle cases from Just Glasses, you'll get:
– Cheap Reading Glasses Case & Sunglasses Cases without compromises on quality
– Exclusive designs
– 14-day hassle-free return policy
– Quick shipping
Feel free to browse our online shop to buy folding reading glasses, men's and women's reading glasses, computer glasses, sunglasses, accessories, and much more! Eyewear from Just Glasses is quality you can afford!